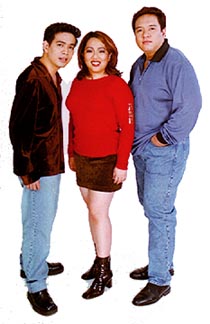 In 1994, three people found out that they were indeed, III of A Kind. Edward, Gelo and Annie were actively involved in singing since childhood, harmonizing in choirs and singing groups. All III studied at the University of the Philippines College of Music and met when they all joined the world renowned Philippine Madrigal Singers. Although all III are trained classical singers, they were always chosen to do the solos of the pop songs the Madrigals included in their repertoire. Soon, all III were in demand as session vocalists singing commercial jingles and doing back-up vocals for major artist in recordings and live concerts, and sought-after as voice teachers, vocal coaches and choral conductors.

Today, III of A Kind displays great versatility, interpreting songs from pop to R & B and dance. Each singer is strong soloist which is why their repertoire can encompass varied styles of music. As one of the few groups who can conceptualize and arrange their own music, audiences are awestruck by their fresh, unique and skilled performances especially when they throw in a cappella versions of popular songs during their shows. Their individual wit and humor spices up every repartee on-stage, with their performing experience showing through their eloquence.

III of A Kind delighted audiences at Fashion Cafe when their three-night concert series was extended to four more months. They have appeared as guest in various shows and concerts, most notable of which are the ones with Jaya, Martin Nievera, Franco Laurel and Pops Fernandez. Last 17 August they performed back-to-back with the country's top artists in "Best of Manila," a concert of Ryan Cayabyab and Louie Ocampo directed by Rowell Santiago for the benefit of the World Wildlife Fund.

They have lent their talents as assisting vocalists for recordings such as the millennium song "Written in the Sand" and Asia Songfest winning entry "You Lift Me Up" both by Danny Tan. As interpreters they have been chosen to give life to Gines Tan's "Sa Langit, Sa Lupa... Pag-ibig!" in the 1997 Metropop and Noel Cabangon's "Ikaw ay Bayani" in this year's Himig Handog sa Bayaning Pilipino. III of A Kind is also featured in the latest albums of Martin Nievera, Randy Santiago and the soundtrack of the forthcoming movie, "Tanging Yaman."

III of A Kind has indeed broadened its horizons since their all-OPM concert tour of the United States in 1995 and their "Kun-Di-Man Trio" outreach performances sponsored by the CCP. Fresh from the success of "Exhibit III @ the Museum" under the direction of Ella Lopez Miller, III of A Kind celebrates its sixth year with a string of other projects: an album to be released and promoted nationwide under Premium Star Records, concerts and workshops for the Young Musician's Society of Singapore on 22 and 23 September, and another concert tour of the United States and Canada from 20 November to 21 December.