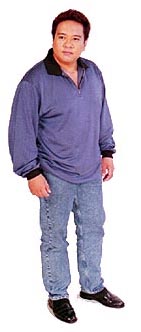 Edward had a most unique childhood. His father, a Methodist pastor (now a Bishop), encouraged his sons to follow in the footsteps of their mother, who was a classically-trained singer, and sing during church services. The youngest in the brood of five boys, Edward was already singing harmony as part of The Granadosin Brothers.

Then he grew up, and boy, did he grow. He majored in Voice at the U.P. College of Music under
the tutelage of Prof. Andrea Veneracion. Joining the world-reknowned Philippine Madrigal Singers in
1983, he established himself as one of the most memorable tenor soloists of the group. Never has the group in it's history come across a fine natural tenor with the gift of song. Edward took part in many of the group's successful tours here and abroad. Notable among these is their 1989 European Tour which earned them all first prizes in international choir competitions.

On his own, he has made some impressive gains too. As a solo artist in the commercial and Christian
music scene, he has sung with the very best in the industry. He has had a solo Gospel album, and a couple with a group he founded, Seven. Made up of, you guessed it, seven guys. The group was known for their wit, as well as their singing. So when most of the members immigrated to the U.S., III of A Kind was born.

Edward is still one of the most sought after vocalists in the Philippines shining as Vishvamitra in this year's staging of the musical "Rama at Sita." He also interpreted "Mabuhay Ka, Pilipino", winning song for the 1997 DBP Katha Himig Songwriting Contest, and chosen as the theme song for the 1998 Centennial Celebration. He continues to share his musical knowledge by teaching Voice at Ryan Cayabyab The Music Studio.